Digital Pathologies Use in Drug Development
Digital pathology is facilitating data sharing between vast numbers of independent labs around the world, advancing drug discovery and development, helping to improve the pharmaceutical options available to people with a variety of diseases, and aiding the progression of precision medicine.
Image Credit: Gorodenkoff/Shutterstock.com
Sharing data helps develop effective therapies
Drug development relies heavily on tissue-based research to enable new therapeutic approaches to be designed to more effectively target and treat a wide range of diseases.
In studying tissue samples taken from the area affected by the disease, scientists can gain valuable information on the efficacy of a particular treatment. Images can be analyzed by specialized pathologists who can determine the levels of toxicity that the therapy has exerted on the disease activity.
Digital pathology is the practice of digitizing images of tissue samples taken by microscopes, uploading them, managing and analyzing them, and sharing them with a wide community of pathologists.
The benefits of this process are plentiful. For drug development, it helps physicians and scientists working in various fields such as oncology, preclinical toxicology, medical anatomic pathology, and veterinary pathology gain access to a large number of images relating to the disease they are investigating.
In doing so, experts working in these fields have access to much more data about their disease, and therefore, are better equipped to design effective treatments.
Below, we explore the major ways in which digital pathology benefits drug development:
Improving efficiency
Traditional pathology is limited by the barriers of geological distance, human subjectivity, and cross-discipline communication. These barriers prevent pathology from reaching its optimum efficiency.
Geography prevents scientists from around the world having access to each other's data, therefore limiting their knowledge, and making the progression of drug development slow.
Human subjectivity means that a small fraction of analyses conducted by pathologists succumbs to human error, which can slow down drug development by encouraging the pursuit of false leads or rejecting a potentially effective drug.
Digital pathology overcomes these limitations. First, it allows scientists in remote areas of the world to connect and share data. This results in a huge pool of information readily available to scientists regardless of their location, enabling them to make more accurate predictions and models regarding substances with potential therapeutic value.
It also enables multiple scientists to work collaboratively for various global locations. This means that experts can be called into work on the same project without the need for costly and time-consuming travel.
Next, the software used in digital pathology enables automated analysis of samples, which reduces errors made through human judgment. Also, because multiple scientists can analyze images together, there is a reduction in subjectivity that can otherwise lead to incorrect analysis.
Finally, digital pathology allows scientists to connect with experts in their field. This can help boost innovation and help to grow knowledge in labs where staff are more junior.
Updating the workflow
The processes involved in digital pathology are adjusting the workflow that has been established in traditional pathology. In digital pathology scientists first conduct whole slide imaging, which is not standard procedure in traditional methods that are limited in the field of view they can capture. In digital pathology, the entire glass slide can be captured in one single image.
Following image capture, time is needed to scan and upload the images into the software used in digital pathology. Thanks to automation, this part of the process can be rapid, scanning a 15mm x 15mm slide in roughly two minutes.
The outcomes of this change in workflow benefit drug development in that they free up lab technicians to work on more valuable tasks. This enables the laboratory workforce to dedicate itself to tasks that may be more fruitful in the drug development process, such as collaborating with other scientists in the analysis of drug response to pathological tissues.
In addition, it is this scanning of slides that has enabled the creation of a vast online database of images that are allowing scientists to access a wealth of data related to their area of study.
Precision medicine
Precision medicine is the medical approach of seeking to provide patients with customized treatment. Precision medicine aims to tailor medical treatments, practices, and decisions to the needs of the individual patient and their specific case.
While still in its infancy, the global precision medicine market was already valued at $38.92 billion in 2015. Experts predict that it will grow rapidly between 2015 until 2022 at a CAGR of 12.48%, reaching a value of $88.64 billion by 2022.
This growth, in part, is being facilitated by digital pathology. Its processes of using whole slide images and sharing data with a wide community of scientists are helping to understand disease behavior at the level of the individual. This is helping scientists to inform their decisions based on the individual and to develop personalized drugs.
Sources:
Precision Medicine Market Growth, Size, and Share Expected to Expand with a 12.48% CAGR till the End- 2022. Available at: www.medgadget.com/…/…2023-global-industry-trend-analysis-2019.html
Potts, S., 2009. Digital pathology in drug discovery and development: multisite integration. Drug Discovery Today, 14(19-20), pp.935-941. https://www.sciencedirect.com/science/article/pii/S1359644609002256
What are some potential benefits of precision medicine and the Precision Medicine Initiative? Available at: https://ghr.nlm.nih.gov/primer/precisionmedicine/potentialbenefits
Further Reading
All Digital Pathology Content
What is Digital Pathology?
History of Digital Pathology
Advances in Digital Pathology
Digital Pathology Challenges
More…
Last Updated: Mar 30, 2020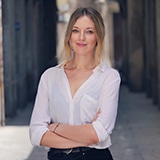 Written by
Sarah Moore
After studying Psychology and then Neuroscience, Sarah quickly found her enjoyment for researching and writing research papers; turning to a passion to connect ideas with people through writing.
Source: Read Full Article