Mental health is a legitimate reason to take a break. Here's how to make the most of one
When tennis champion Naomi Osaka withdrew from the 2021 French Open in June on mental health grounds, the response was varied. Most – Will Smith, Lewis Hamilton and Serena Williams among them – voiced support for the world No.2, who revealed in a Facebook post that she had suffered long bouts of depression since her dramatic win over Williams at the 2018 US Open.
Others took a more critical stance. Piers Morgan called Osaka narcissistic and "world sport's most petulant little madam", while British sportswriter Oliver Brown declared the tennis player's media boycott "diva behaviour at its worst".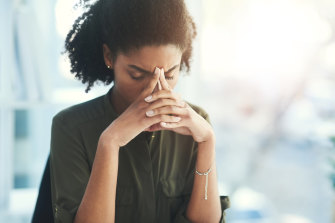 According to PwC, 45 per cent of Australian workers will experience a mental health condition in their lifetime.Credit:iStock
However controversial, Osaka's decision to take time off her high-profile job highlighted the issue of mental health at work and the importance of mental health breaks for our wellbeing. According to PwC, 45 per cent of Australian workers will experience a mental health condition in their lifetime, and every worker takes an average of three days off work each year due to stress.
"Even before the availability-creep of COVID-19, our work culture was unsustainable," says Sarah Cotton, organisational psychologist and co-director of Transitioning Well. "The pressure and stress of working in a fast-paced 'always on' environment had a detrimental effect on our mental health and wellbeing. It's the reason why we saw so many people enjoying slowing down during the initial lockdown."
Peter Baldwin, a clinical psychologist and Clinical Research Fellow at Black Dog Institute, says mental health is "a legitimate reason" to take leave. "Our brain is probably the only organ we continue to overuse when it clearly needs rest and recovery."
Baldwin says there is a clear cost-benefit to good mental health in the workplace. "Workers with mental health problems who don't get treatment are less productive, take more sick leave and are more likely to leave the workforce completely," he says. "Workers, employers and the economy all benefit from having solid workplace mental health policies. It's a no-brainer."
The COVID-19 pandemic has had an enormous impact on the mental health of Australians, says Baldwin. "We're seeing higher rates of help-seeking for mental health both in the community and at our emergency departments. It's been quite a big challenge for us as a nation."
For many, says Cotton, "the monotony of multiple lockdowns and disruption to our lives since the COVID-19 pandemic" has engendered an in-between feeling psychologist Adam Grant calls languishing. "It sits between depression and flourishing and describes how many of us are feeling flat, aimless and stagnant at the moment. If left unchecked, it can turn into a mental health condition."
Signs you need a mental health break
Lacking motivation and finding it difficult to concentrate? Having trouble sleeping? Overcome with fatigue or feelings of irritability, frustration and worry? These are all signs your mental health may be suffering, says Cotton, who warns that unmanaged stress at work can lead to burnout, a condition typified by exhaustion, cynicism, and self-doubt.
Broaching the topic of mental health with a manager can be daunting. "As Naomi Osaka recently demonstrated, stepping back from work to look after your mental health may not always be as well-received as we deserve," Cotton acknowledges. "Unfortunately, there's still a stigma associated with mental health."
Ask for a one-on-one meeting with your manager to discuss how you feel and what you need to recover, whether it's reducing workload, time off, or more flexibility to schedule appointments to talk to a psychologist, says Cotton. "The Fair Work Act protects employees who are dealing with mental health problems from unlawful workplace discrimination.
"However, if you're not comfortable talking to your boss, approach your HR manager (if available) who can connect you to relevant resources and provide access to confidential employee assistance programs."
A mental health break doesn't necessarily require taking a day or longer off work. "It can be as simple as building in smaller breaks throughout the day to re-energise and recharge, such as stopping to have lunch or scheduling some buffer time between meetings," says Cotton. "Short breaks allow us to be more productive and creative when we get back to work."
If you decide to take time off, "set clear expectations with work about who will be looking after your responsibilities while you are away," and log off email and platforms like Zoom and Slack, suggests Baldwin. "Think about why you're taking the break and how you'd like to feel at the end of it. Do one thing each day that moves you towards that goal. This might be a holiday, time with loved ones, therapy, exercise or anything else that's meaningful to you."
Use a break as an opportunity to reconnect with yourself, advises Cotton. "Do things that make you feel positive and fulfilled. Allow yourself to be absorbed in something you love. Achieving a state of flow, when you're doing something you love and losing track of time, can be an antidote to languishing.
"It's also a good time to build your resilience credit by getting the basics right," she adds. "Re-establish healthy eating, exercise, and sleep habits and care for your mind with meditation, self-compassion, gratitude and connection. Use time off to take these micro-steps to build momentum for lasting change."
Make the most of your health, relationships, fitness and nutrition with our Live Well newsletter. Get it in your inbox every Monday.
Most Viewed in Lifestyle
From our partners
Source: Read Full Article