MIPS Quality Scores Don't Reflect Quality of Care: Study
Even as hundreds of thousands of physicians spend many hours reporting to Medicare's Merit-Based Incentive Payment System (MIPS), a new study in JAMA finds that the program's quality scores don't reflect the quality of the care that individual doctors provide.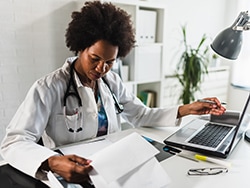 Under MIPS, which started in 2017, doctors and other healthcare providers who treat Medicare patients can get financial bonuses ― or sometimes be penalized ― on the basis of data that's scored for quality, patient outcomes, cost, and other measures.
The researchers found there was a lack of consistency between the MIPS scores and the clinical performance of primary care physicians on selected quality measures. Many physicians with high scores did poorly on these measures, while about the same percentage of doctors with low scores did well on the same metrics.
Using risk-adjusted Medicare claims data, the researchers also found inconsistencies in performance on outcomes measures. For example, patients of physicians with low MIPS scores had significantly higher rates of hospitalization but lower rates of emergency department (ED) visits compared to patients treated by high-scoring doctors.
First Study of Its Kind
The MIPS study, the first of its kind, examined the performance of 80,246 US primary care physicians who participated in MIPS in 2019. The sample included 4773 doctors with low MIPS quality scores, 6151 with medium scores, and 69,322 with high scores.
This lopsided distribution lines up with data from the Centers for Medicare & Medicaid Services (CMS). In 2019, 83.7% of the eligible clinicians who participated in MIPS — including physicians, nurse practitioners, physician assistants, and other healthcare professionals — had a final score at or above the threshold for "exceptional performance"; 11.6% had scores between that and the minimum threshold for quality; 4.36% were at the minimum benchmark; and just 0.32% of eligible clinicians had scores below the minimum.
Dhruv Khullar, MD, lead author of the study and an assistant professor at Weill Cornell Medical College in New York, told Medscape Medical News that MIPS was designed to encourage as many clinicians to participate as possible; consequently, CMS made it relatively easy to achieve high scores.
"They recognized it's a pretty large change for a lot of practices," he noted. "Over time, those exceptional performance thresholds will increase, and so you won't see as large a percentage of physicians do well."
The bonuses that physicians can get for all the work they have to put into MIPS are quite modest. For clinician performance in 2019, for example, the maximum bonus for exceptional performers was only 1.79% of a clinician's Medicare Part B claims, according to CMS.
The maximum bonus for medium performers was zero, and the few clinicians who failed to meet the threshold for performance were not penalized.
But from the perspective of what it cost practices to comply with MIPS, many participating physicians were penalized. According to the study, CMS has estimated that it cost clinicians over $1.3 billion to comply with MIPS in 2017 (the first performance year) and another $700 million to comply in 2018.
An independent study found that in the latter year, practices spent over $12,000 per physician to participate in MIPS, and they and their administrators devoted more than 200 hours per physician on MIPS-related activities.
Wide Variations
In the study, investigators evaluated the association between primary care doctors' MIPS quality scores and their performance, as measured by Medicare claims data, on four unadjusted process measures, six outcomes measures that were adjusted for patient characteristics, and a composite outcome measure. The process measures were similar to those used in MIPS; the outcomes measures were indicators commonly used for examining the quality of outpatient care.
Physician performance varied widely on diabetes and breast cancer screening across all MIPS score categories. In contrast, at least half of the physicians in all categories achieved a rate of 100% on influenza immunization and tobacco screening.
Physicians with low MIPS scores had significantly lower rates of diabetes eye exams, use of A1c level to screen for diabetes, and mammography screening than did high-scoring physicians, but they had significantly better rates of flu shots and tobacco screening than their high-scoring peers had.
Physician performance on the adjusted clinical outcome measures also varied widely for ED visits and hospitalizations, but performance differences were smaller for ambulatory care–sensitive admissions: those admissions that might have been prevented had the patients received excellent care. Across the MIPS score categories, there were no significant differences in ambulatory care–sensitive admissions for hypertension, diabetes, chronic obstructive pulmonary disease, or congestive heart failure.
Correlations With Practice Types
The researchers found correlations between some of the performance differences and the types of practices. Compared with physicians who had high MIPS scores, doctors with low MIPS scores had visits with more unique patients, were more likely to work in small practices, and were less likely to be in a multispecialty group or affiliated with a health system.
In addition, compared to doctors with high scores, physicians with low MIPS scores were more likely to care for patients who were dually eligible for Medicare and Medicaid, were Hispanic, and/or had medically complex cases.
Khullar said he was especially concerned about this finding. "This suggested that practices that care for these vulnerable populations are at risk for penalties even when they're providing relatively good care as measured by outcomes," he said.
Quality scores are only part of the composite MIPS scores that determine bonuses or penalties. In 2019, quality accounted for 45% of the composite score; cost of care constituted 15%; practice improvement activities, 15%; and "promoting interoperability" (a measure of health IT usage), 25%. In 2022, the composite score assigns a lower weight to quality (30%) and a higher weight to cost (30%). Nevertheless, quality remains an important part of the MIPS program.
MIPS' Future Looks Cloudy
Should MIPS be retired? The Medicare Payment Advisory Commission, a body that advises Congress, has called for MIPS to be eliminated. So does J. Michael McWilliams, MD, of Harvard Medical School, in a JAMA editorial on the MIPS study. But the study authors are equivocal, noting that Congress hasn't shown interest in abandoning MIPS and that some experts believe the program can be reformed.
Amelia Bond, PhD, of Weill Cornell, one of the study's co-authors, is in the latter camp. While the current program is deeply flawed, she told Medscape, "I think we could get to more accurate measures and lower costs for physicians."
Khullar, on the other hand, thinks MIPS will only become more burdensome as CMS ratchets up the penalties for poor performers and makes it harder to get bonus payments. That, combined with doubts about the validity of the current quality measures, he said, "would upset many in the clinical community, and rightly so."
JAMA. Published online December 6, 2022. Abstract, Editorial
For more news, follow Medscape on Facebook, Twitter, Instagram, and YouTube.
Source: Read Full Article