OMG: Last Year's Viral Donut Sneakers Are Back And Better Than Ever
Saucony just released a limited-edition sneaker with Dunkin' Donuts.
The Saucony x Dunkin' Donuts Kinvara 10 features a pink-and-orange design and a sprinkled-donut medallion in the brand's go-to performance sneaker.
The shoes, available now, retail for $120 and sold out in just hours last year.
If you love running, coffee, and/or donuts, major news flash: You could literally be running on Dunkin'.
As of today, Saucony is back with their second collab with Dunkin' Donuts, dropping the most *delicious* shoe you've ever seen. The two brands launched the limited edition sneaker—which sold out within hours last year—for the Boston Marathon. (The ever-popular chain originated in Quincy, Massachusetts, and Saucony is based in nearby Lexington, Massachusetts, so…no, it's not random.)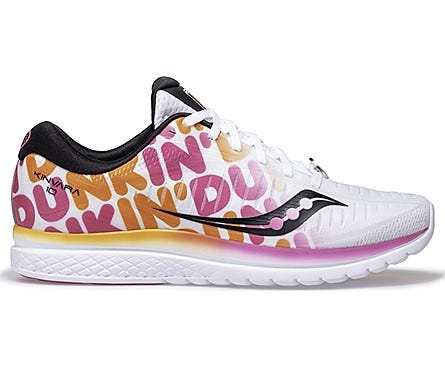 The Saucony x Dunkin' Donuts Kinvara 10 gives the award-winning Kinvara running shoe a total exterior makeover, featuring the classic Dunkin' pink-and-orange palette and logo. The laces have the most adorable strawberry-frosted donut medallion—complete with rainbow sprinkles!—and the tongue features a sketch of the chain's recognizable coffee cup. The sneakers come packaged in a custom box (reminiscent of that beautiful white box of donuts) and with three sets of laces (white, orange, and pink), so you can make them pop to your liking even more.
And of course, themed to the Boston Marathon, the sneaks have a reflective "Boston" emblazoned onto the heel.
The shoes are officially available today on Saucony, and drop tomorrow at Marathon Sports stores. Boston Marathon runners can find a limited supply at the John Hancock Sports & Fitness Expo from April 12 to 14, but those aren't likely to last long. They retail for $120—honestly, a steal for a solid performance running shoe that's sure to turn heads.
I hope you've had your coffee this morning—it's going to be a sprint to the Saucony site to lock down a pair of these cushy cuties.
Source: Read Full Article