This Protein-Packed Steak Dinner Uses Only One Pan
High-end steak houses might be one of the greatest con jobs in history. You know why these places make a big fuss out of all the white tablecloths, over-attentive servers, truffle butter, and hefty silverware? It's to distract you from the fact that you could be eating a really, really great steak at home if only you knew how to cook one for yourself.
Here's how to cook a really, really great steak for yourself: Grab a cast-iron pan, crank the heat to high, slap in a steak, and flip it every minute until perfectly charred and juicy.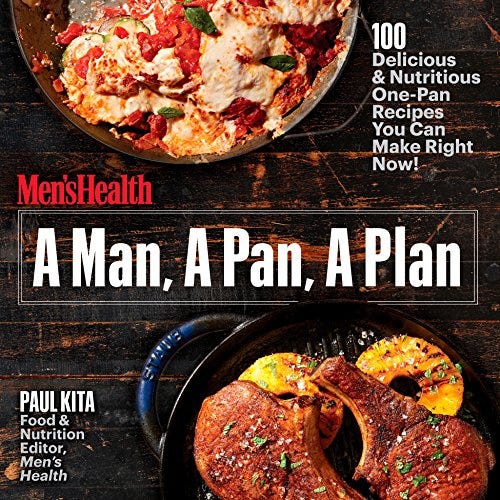 That's it. This recipe, from the A Man, A Pan, A Plan cookbook, will show you the technique, and also throw in some simple sides you can make in the same pan to help round out your meal. No giant check. No hefty tip. Just great steak.
The Recipe: Steak 'n' Shrooms with Garlic Spinach
Serves: 2 | Prep time: 10 mins | Cook time: 15 mins | Total time: 25 mins
What You'll Need:
How to Make It:
1. Preheat a cast-iron pan to high. (Open a few windows and crank your oven vent to high—things are about to get smoky.) Liberally season both sides of the steak with salt and pepper. When the pan begins to smoke, add 1 Tbsp of the canola oil and swirl. Add the steak and sear, flipping every minute, for a total of 6 minutes for medium rare. Transfer the steak to a plate.
2. Remove the pan from the heat, add the wine to the pan, and using a wooden spoon, stir the wine, scraping up the browned bits clinging to the pan. Add the butter, stir until melted, and season lightly with salt and pepper. Pour into a small serving dish and set aside.
3. Return the pan to medium-high heat. Add the mushrooms and cook, stirring frequently, adding a little more oil if the shrooms are too dry, until well browned, 5 to 7 minutes. Spoon the mushrooms over the steak.
4. Remove the pan from the heat and add the remaining oil, the garlic, and spinach. Cook, stirring constantly, until just wilted, about 1 minute. Serve alongside the steak, with the sauce on the side. Feeds 2.
Nutrition per serving: 512 calories, 51g protein, 3 gcarbohydrates (1 g fiber), 34 g fat
Source: Read Full Article