Vlasic Pickle Chips Will Be Your Go-to Snack When the Craving Hits
Pickles have come a long way from being a bite-size snack. These days, pickle-flavored foods are everywhere (pickle sandwiches, anyone?), and I'm not complaining. A new snack is going to make it easy to get that pickle flavor on the go, so I can't wait for Vlasic Pickle Chips to hit shelves.
"Pickles has [sic] always been a flavor that people have loved in snacks, whether it's potato chips or even in our Bigs Vlasic dill sunflower seeds," Thomas M. McGough, cochief operating officer and executive vice-president of Conagra Brands, Inc., said in a statement.
It's unclear when the chips will come to stores, but I'm hoping it's sooner rather than later. The 4.25-ounce bags are perfect for a single serving.
"Pickles themselves are a great snack, essentially no calories or carbs," McGough continued. "But eating pickles out of a conventional jar is inconvenient and messy, and pickle snacks are actually becoming a thing, particularly in [convenience] stores. So we've created Vlasic single-serve pickle slices and also a Vlasic vacuum-fried pickle chips that taste absolutely fantastic."
Yes, you read that correctly. Not only is Vlasic bringing us pickle chips, but they will also be releasing single-serve pickle slices for when chips just won't satisfy your need for vinegar and salt.
Pickle news is my favorite news, so I'm pretty excited for these to become part of my daily snacking!
Get Your Pickle Fix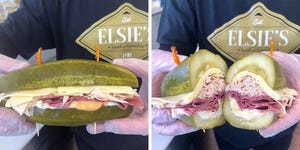 Source: Read Full Article