My parents recently separated because my father had an affair. I love my dad but I am angry with him at the same time. I'm not sure how to deal with my feelings. What should I do?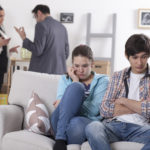 It sounds like you're going through a really difficult time. It also seems like you may be having some conflicting feelings and that is completely understandable given your situation. Your feelings are valid and they matter. It's not uncommon for people to have multiple emotions at the same time. It makes sense that you love your dad AND are angry with him. It will take time to rebuild the trust you had in your dad before the affair and separation.
During times of adjustment or transition, such as parents separating, it can be hard to communicate your emotions with your parents or others. It's actually a good idea for you to tell your parents how you're feeling as they may not be aware. If you're in school, you can reach out to a school counselor or school social worker as they can offer a listening ear and they may be able to help guide you to some local support services, including connecting you with a therapist. A therapist can provide support for you during this transition and work with you on how to deal with your feelings. A therapist can assist you in building coping skills. A coping skill is a skill that helps you tolerate and deal with stressful life events. Some examples of coping skills are exercising, meditating, making a "To Do" list, or even asking for support. Your therapist can help you identify which coping skills work best for you! These skills will be useful not only during this time but other moments when you're feeling overwhelmed. Remember these uncomfortable feelings are only temporary and with the right supports in place you can get through it.
Source: Read Full Article