I've Tested Hundreds of Sex Toys. These Are the Only 3 I Use.
I've been writing about sex for 18 years and for almost all of that time, people have been sending me free sex toys to try out. (It's nice work if you can get it.) These companies aren't just being nice—they send them in the vain hope that I will write a favorable review and, in so doing, help them move some units. Because of this rather odd aspect of my working life, I've tried hundreds of toys—both solo and partnered. But I could count the sex toys I've actually used more than once on one hand. Literally. After nearly two decades of testing, here are the only three that I still keep within reach of my bed—for my own sake, as well as my partner's.


The Hitachi/Original Magic Wand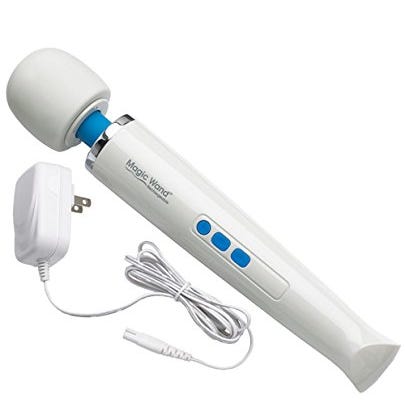 While nothing can be more subjective than an opinion on a sex toy, the efficacy of this legendary device designed to make it rain orgasms has actually been proven by science. A 2008 study found that over 93 percent of a group of 500 chronic anorgasmic women—meaning women with a persistent inability to climax—could reach orgasm using the Magic Wand. That finding, plus the consensus view of very happy magic wand owners I've spoken with over the years is what led me to invest in my very own Hitachi magic wand in 2012.
That version of the wand—virtually unchanged in 45 years—was ugly and unwieldy. It plugged into the wall and had just two settings commonly described by users as "high", and "really high." In fact, many users need to put a blanket between their body and the toy to buffer the intensity of stimulation. But if these aesthetic and engineering oversights were the cons, the pro was that it was devastatingly effective at making bone-shaking orgasms happen.
Given research from 2005 showing that only 18 percent of women can orgasm from vaginal penetration alone, I quickly found that the Magic Wand was an incredibly handy and much-appreciated tool to have in my arsenal. One partner was so into grinding her clitoral region into the wand during rear-entry sex that she eventually snapped the head of the device clean off. Imagine my horror—not to mention hers—when I rushed out to buy a replacement and discovered that Hitachi no longer made them. Or so it seemed.
Apparently, the Japanese company had created this contraption in the early '60s for relieving tension and relaxing sore muscles and were bugging out about the brand name being uttered when people gushed about their favorite sex toy. Consequently, Hitachi temporarily ceased making the wand in 2013, but was persuaded by US distributor Vibratex to continue manufacturing it under the name "Original Magic Wand" with the Hitachi name omitted.
When I got my replacement in 2016, it was an award-winning new version of the wand that is cordless and rechargeable, with four speeds and four preset patterns. Upon making my purchase, I also picked up a few "after market" attachments made by a variety of companies. These rubber and silicone add-ons are designed to excite both male and female parts. Luckily, I checked out the "Hummingbird" attachment on my own time, because that time was very, very short. Simply put, the Magic Wand makes it happen hard and fast. It's available on Amazon for $85.
The Eva II by Dame Products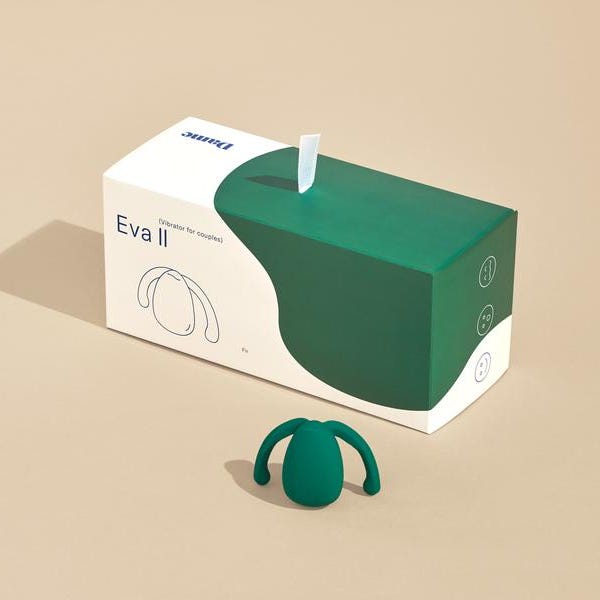 On the other end of the size scale is the Eva II. Billed as the world's first fully wearable sex toy, its first iteration was designed by sexologist Alex Fine and engineer Janet Lieberman to address the 2005 finding that men are more than twice as likely to orgasm through intercourse alone than women are. The goal of their 2014 Indigogo campaign was to raise $50k and get the Eva into people's lives. Ultimately, they raised almost $862k—highlighting the enthusiasm of the general public to close what they term "the pleasure gap."
Waterproof, rechargeable, and smaller than a Cadbury Creme Egg, the three-speed vibrator has two flexible arms that enable it to tuck into the inner or outer labia. Once nestled there, it provides hands-free clitoral stimulation without obstructing penetration. While it's designed to improve a woman's chances of having an orgasm during penetrative sex, it's actually fun for me too. Available in two colors, The Eva II can be had for $135.
The NJoy Pure Wand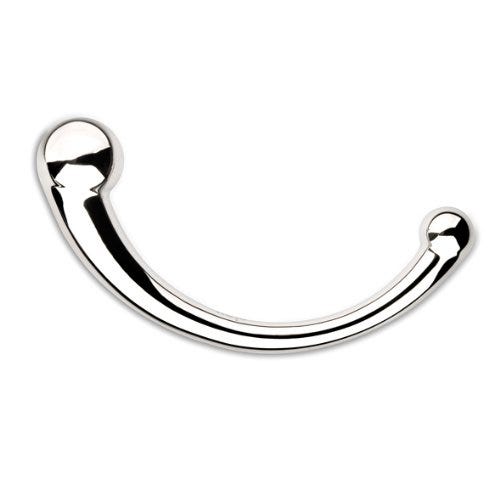 I was first introduced to the NJoy Pure Wand when one was shoved into my hand my sex coach Kenneth Play during one of his PlayLabs. A Playlab is a hands-on sex ed workshop in which Play discusses an advanced sexual technique. He then demonstrates said technique with an assistant, and then coaches a room of neophytes as they attempt it for the first time. My girlfriend and I were at his Squirting Playlab—squirting being the colloquial term given to women's ability to ejaculate fluid in response to stimulation with fingers, a penis, or a toy. According to Play, the Pure Wand was the ultimate tool for this particular job.
One balled end of this heavy, curved stainless steel implement can be inserted into the vagina, where it makes contact with the front inside wall. Once you find the perfect balance point, you can gently bounce the wand by gently tapping the exposed end of the wand. The end on the inside will run against the front inside wall and more often than not, open the flood gates. That occasion was the first time that my girlfriend had ever squirted and—judging by the emphatic reactions all around us—it was the first time for all of the other women in the room, too. During that same session, Play also showed us how to use the Pure Wand in conjunction with the Magic Wand for something he calls the blended squirting orgasm.
As with the Magic Wand, I was in possession of this thing for years before I realized that I could enhance my orgasms too. I'd gamely tried out plenty of prostate toys in the past but I'd been left largely unmoved. When I tried out the Pure Wand using the same bouncing technique I employed when using it with a female partner, I had such an intense orgasm that masturbating without it hardly seems worth the effort. The Pure Wand is available from NJoy for $110.
Source: Read Full Article